Memoir
'Lost Child' : A Film Memoir made for the Celebrating Change digital story project 2021
'Piece by Piece: Remembering Georgina: A Mother's Memoir'. Slipway Press, 2015. ISBN 978-0-9934484-0-9
Available to buy from Amazon  as a paperback and E-book.  Stocked by The Guisborough Book Shop, and Book Corner (Saltburn)
Short Stories
'Trespass'. Heart/h micro-fiction anthology. Fragmented Voices, 2021
'The Brightness of Sirens'. Crossing the Tees Fourth Short Story Anthology. Sixth Element publishing. 2021
'Mrs Thatcher's Gift to Good Children'. Another North, November 2019
'Independent Traveller'. The Book of Godless Verse, December 2018
'For the Record'. Winner – Adult Category, 2017/18 People Not Borders 'I am me' Short Story Competition.
'Cast In Order Of Appearance'. Ellipsis Zine, June 2017
'Marina's Latest Lover Prepares To Leave'. National Flash Fiction Day Flash Flood 2017
'Emily's Elephant'. First Prize. Ink Tears Flash Fiction Competition 2015
Read 'Emily's Elephant' HERE
'Honey Versus Custard'. Second Prize. Sentinel Literary Quarterly Short Story Competition November 2014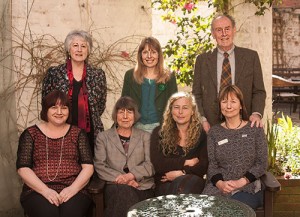 'Results Day'. First Prize. Bridgwater Homestart Short Story Competition 2013 (judged by Dame Margaret Drabble)
'The Mouths of Babes'. Confingo Magazine No.2 Autumn 2014
'Tangerine Glow'. Home Tomorrow anthology (Sixth Element Publishing, 2011)
'The Only Child'. Alliterati Magazine Issue 7 page 46.
Finalist: Teesside University Adele Parks Short Story Competition 2011.
'Somewhere Different'. Winner of The Middlesbrough Transporter Bridge Centenary Writing Competition .
Life Writing
'Horace Dancing'. Ellipsis Zine. 20 May 2021
'Semi-Detached by the Sea'. StepAway Magazine #Lockdown,  April 2020
'Wanting'. Skin To Skin Exhibition, July 2019
'What A Girl Wants'. Compass Literary Magazine, May 2015
'Choose Life'. Winner. Creative Support's 'Choice. Opportunity, Wellbeing' Creative Writing Competition 2010
Poetry
'Cook Thoroughly Before Serving'. Sledgehammer Lit. 17 July 2021
'Extra Mile'. Poetry for Good. 2021
'Promise'. Dreich Ekphrastic Themed Chapbook, October 2020
'Sagrada Familia (Unfinished)'. Anthology 1. Light. The Black Light Engine Room Press, 2020
'How to Grow a Widow'. Diamond Twig Poem of the Month, July 2020
'Outrageous Light'. Celebrating Change blog: Surviving Trauma series. 24 April 2020
'Tender Places'. Fragmented Voices, 25 March 2020
'Big Bed'. The Book of Godless Verse, November 2018
'Testing Time'. Celebrating Change blog, October 2017
'Wait Here'. The Projectionist's Playground #2   2017

"Way Out' chapbook. Incidental Poetry Series, 08. The Black Light Engine Room Press, 2017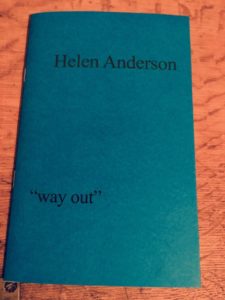 . Available to buy from Saltburn Book Corner or  theblacklightenginedriver@hotmail.co.uk (Reviewed by Riggwelter Press, September 2018)
'Playing With Phosphorous'. Through The Cracks: Teesside Literary Society Inaugural Anthology. Ed Lisa Nelson (Ek Zuban, 2016)
'The Reluctant Runner'. The Fat Damsel Magazine Issue6 Part 1' (This is a prose-poem – or poetic prose – I think)
Navigating The Vltava' and 'The Genie's Out'.  The Black Light Engine Room Magazine Issue 12
'Headland'. Nominated for Holland Park Press What's Your Place? Poetry Competition 2013
'Poisoned Orange'. Winner. Miracle Magazine's 2013 Poetry Competition
'Beyond Me'. When The Tramp Met The King. An anthology of poems celebrating Elvis Presley and Charlie Chaplin. Ed Andy Willoughby and Bob Beagrie (Ek Zuban, 2013)
'Not Good Enough'. Material Magazine #004
'Communicating With The Comatose.' Heart Shoots 2013 Anthology For MacMillan Cancer Support. Ed. Ronnie Goodyer (Indigo Dreams Publishing, 2013)
'Clear Days'. 1st Prize. Saltburn Talk of the Town Saltburn Memories Poetry Competition 2012
'A Spur-of-the-Moment Thing'. 3rd Prize. Middlesbrough Mela Poetry Competition 2011
'Writers Retreat'. The Eye of Temenos: Reflections on Sacred Space. Eds Bob Beagrie and Andy Willoughby (Ek Zuban, 2011)
'Diagnosis'.  A Poem for the National Autistic Society on National Poetry Day 2011.
'Branded'. Everything Flows: A Celebration of the Transporter Bridge in Poetry. Ed. Andy Croft (Middlesbrough Council, 2012)
Save
Save