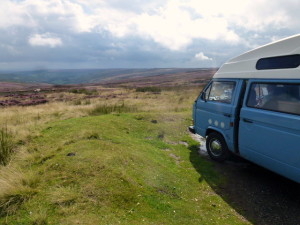 After an extremely busy summer, I am just about prepared to switch into cosy-evenings-by-the-fireside mode. I have mixed feelings about the advent of autumn as I am a person whose mood is drastically affected by sunshine – in the same way that some people say that exercise gives them an endorphin rush (sadly, not the case in my case), I can feel my mood lifting as UV rays hit my retinas. But the inability of mankind to come up with a computer screen which can be read in glaring daylight means that any outdoor writing has to be done in the traditional pencil-on-paper fashion.
Hence, my desk is straining under the weight of notebooks filled with scribbles arrived at during this summer's camper van excursions and back-garden afternoons. My task, now, is to transcribe them and put them into a meaningful order. I am making progress with my second novel, but need to buckle down to making some tricky  – and, hopefully, final – decisions about its structure. I am also about to throw myself into the alien territory of self-publishing, as I finish shaping my memoir about losing Georgina. I am aware that I've lots to learn about e-books and formatting and marketing but this is a piece that I have felt compelled to write and I am keen to get it out there to the reader as soon as possible, avoiding some of the delays inherent in the traditional publishing route.
But, first, before I wave a wistful farewell to summer, I am looking forward to reading some of my poetry at Staithes Festival of Arts and Heritagehttp://www.staithesfestival.com/whats-on-at-the-staithes-festival-2015/ this weekend.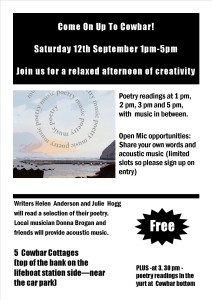 I love the quirky, pretty village of Staithes, on the North Yorkshire coast. If it wasn't so hilly (not good for my husband's heart condition), I'd like to move there. I love the ginnels and the cobbles and the smoking, not-quite-straight chimney stacks, all of which are finding their way into my new novel's setting. We are poeting on the Saturday afternoon, after which I can kick back and relax and see where the rest of the festival takes us.
 After which, it is back to work. Inside. On the computer. Come rain or shine.